We are pleased to offer our Guests Fiber Internet!
In December 2021 we upgraded our fiber to 1000 mbps (1 gigabyte) to better serve our guests.
We have 7 access points located through out the park for good coverage even with all of our trees.   We have tested Wi-Fi reception through out the park and there is an adequate signal at each of our sites.   Logging on is as simple as opening your browser and entering the user name and password given to you at check in and it will allow up to 10 devices.
As with any network connection, speed does and will vary depending on the number of users and the traffic on the system.  Our system automatically divides bandwidth equally between users to provide a good connection.  Please read our Wi-Fi user agreement located here.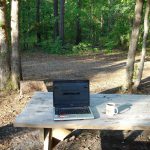 This is our office.
We keep things simple.
Come enjoy the simple life.
Rayburn RV Hideout has fiber Wi-Fi.